A.V. Lavrov. Leonid Semenov – Andrei Belyi's correspondent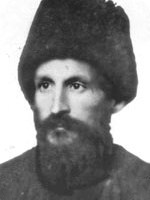 "Moi slova pamiati budut o stikhotvortse, miatezhnike, rabotnike, strannike, sviashchennike i muchenike Leonide Semenove-Tian'-Shanskom", wrote Z. N. Gippius in her essay "Poema zhizni (Rasskaz o pravde)" (1930)[1]. Thus she described the life's milestones of a "mladosimvolist", Aleksandr Blok and Andrei Belyi's peer, who chose, however, not purely creative, but (using a fairly suitable symbolist term) "life-building" ("zhiznetvorcheskii") way. The path of "zhiznetvorchestvo", which Semenov started to practice in 1907, meant refusal from not only literary forms of self-expression, but also complete alteration of his modus of existence: "Vsled za Aleksandrom Dobroliubovym on rasstaetsia s "obshchestvom" i ukhodit "v narod". ‹…› Postepenno imia Semenova, kak i imia Aleksandra Dobroliubova, stanovitsia svoego roda simvolom – olitsetvoreniem "ukhoda", k kotoromu tiagoteli i drugie mladshie simvolisty (Blok, Belyi)"[2]. It can be logically inferred that Semenov's biography is "samoe znachitel'noe ego proizvedenie"[3].
[1] Gippius Z. N. Chego ne bylo i chto bylo: Neizvestnaia proza 1926–1930 godov. SPb., 2002. P. 515.
[2] Azadovskii K. M. Aleksandr Blok i Mariia Dobroliubova // Al. Blok i revoliutsiia 1905 goda. Blokovskii sbornik. VIII (Uchenye zapiski Tartuskogo gos. un-ta. Issue 813). Tartu, 1988. P. 35. See general information on L. D. Semenov and articles and publications about him in K. M. Azadovskii's commentary in: Kliuev Nikolai. Pis'ma k Aleksandru Bloku. 1907–1915. M., 2003. P. 118–120, – and also in V. S. Baevskii's article (Russkie pisateli 1800–1917. Biograficheskii slovar'. Vol. 5. M., 2007. P. 553–555).
[3] See: Baevskii V. S. Zhiznestroitel' i poet // Semenov Leonid. Stikhotvoreniia. Proza / Izdanie podgotovil V. S. Baevskii. M., 2007. P. 457 ("Literaturnye pamiatniki").